What it Does
PowerQuote is a complete print estimating and management system with your choice of modules for sheetfed offset, high speed digital printing, large format printing and receivables. It includes written quotes, job tickets, easy recall of jobs for reorders and more. The setup is quick because built-in rates are easy to adjust for accurate cost based calculations.
How it Works
PowerQuote printing quote software leads you through the estimating process with its user friendly interface to create estimates, job tickets and invoices. Accurate print estimating is at the core of PowerQuote, but you'll also save time, improve customer service and cut costs. See more details on the estimating modules here- Offset, Digital & Large Format
Basic Features
Adjustable cost-based estimating
Job tickets
Written/email quotes
Quick setup
Job history
Enhanced Module Features
Brokered job management
Sales/production reports
Invoices
Receivables
Use with popular accounting software
Networking
Network any combinations of Macs and PCs. Share information seamlessly with or without a dedicated server.
Click here to request a demo or ask questions about PowerQuote.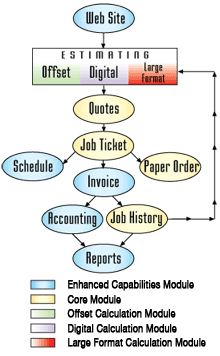 Minimum System Requirements
PC- 1.8 ghz processor with 2 gig ram running Windows 7, 8 or 8.1, 10, 100 megs of free hard drive space, an available USB port and a printer.
Mac- System with Intel processor, 2 gig ram running Mac OS 10.7 – 10.12, 100 megs of free hard drive space, an available USB port and a printer.
Investment
Affordable even by small companies. Please contact us or use the demo form to request details. Monthly payments plans available. Major credit cards accepted.