Accounting Features
What's included with the Enhanced Capabilities module?
PowerQuote's Enhanced Capabilities module includes invoicing, receivables, post payments, account balances, aging, top 20 customers and other sales and accounting reports. It also includes the Broker module, which allows you to quote and invoice jobs not produced in-house.
Quick, Easy Invoicing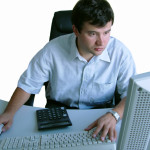 When you do an estimate, that information flows into a job ticket and later an invoice. Making an invoice can be as easy as clicking the jobs completed, verifying the customer and printing. Invoices can be emailed instead of printed. Invoices may have up to 10 jobs. Reorders may be one or any combination of jobs, even though they may have previously been invoiced together.
Keep Account Balances Current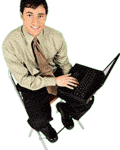 It's easy to post payments. PowerQuote shows you the outstanding invoices for the chosen client so you can just click the ones being paid. PowerQuote accepts and records single payments for multiple invoices and partial payments. Statements can be printed for all customers or just one. Interest can be added on past due invoices. Terms are adjustable by customer.

Yes, You Can Use PowerQuote With Popular Bookkeeping Software
Instead of a complicated export/import of customers, jobs and invoices, PowerQuote handles all the receivables with the Enhanced Capabilities module. It does invoices, statements, post payments, aging etc. Use your general accounting software for payables, profit/loss reports, balance sheets etc. Then make just 3 general journal entries per month: 1) the total receivables 2) the tax on those receivables 3) what was paid on receivables. Since all the individual customer accounts, post payments, invoices etc. are handled in PowerQuote, your general accounting software only needs these totals to generate the P&L and balance sheet.

Broker Module
PowerQuote makes it easy to quote and invoice work that is not produced in-house. Combine brokered jobs with in-house services such as design, proof, paper, cutting, bindery etc. to brokered jobs. The system generates PO's for your suppliers and maintains of list of vendors with multiple standard markups for different categories of product.